We produce a range of quality stockfeeds and poultry kibble. These products are specially formulated, 100% biodynamic and Demeter certified.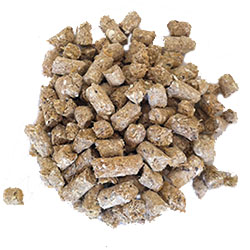 Livestock pellets
An animal nutritionist has formulated Eden Valley livestock pellets with concentrated high-energy levels and moderate protein levels for adult ruminant animals such as sheep, cattle, alpacas and goats. This is a natural product and does not contain any restricted animal material. The pellets are made from 100% Demeter certified biodynamic grains including wheat, oats, rye, barley, triticale, bran, pollard and lupins. Natural minerals of salt, gypsum, lime, di-calcium phosphate and natural sea minerals (a natural acidity buffer) are added to a nutritionally balanced formula. Pellet composition will vary slightly from batch to batch depending on the availability of Demeter certified grains. Currently the pellets have a digestible dry matter of 80.5%, ME 12.9% MJ/kg DM, ADF 9.1% and crude protein of 11.5%. Available in 20 kg, 500 kg or 1,000 kg bags.
Usage notes:
Offer pellets to livestock over a four-week period, gradually increasing the percentage of pellets, allowing the animal time to adjust to the new feed source.
The pellets are high in energy and MUST be fed to ruminant animals with a quality fibre source such as hay, mature green pasture or straw.
Provide good, clean water for animals.
Allow for a daily feed intake of around 3% body weight of animal.
Weed seeds that may be present in feed grains are made infertile in the processing of the livestock pellets.
Pellets are processed to export standards.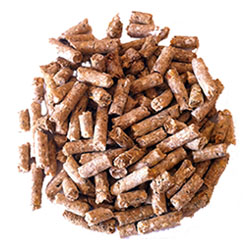 Certified poultry kibble
Formulated as a balanced feed supplement using Demeter certified grains for free-range laying hens (from 17 weeks of age to end of lay) that have access to pasture, clean fresh water and a free choice calcium source e.g. limestone or shell grit. Allow approximately 100 gm poultry kibble per day per bird. Contains:
Biodynamic certified whole grains, bran, pollard and lupins
Fine shell grit
Salt, bicarbonate of soda and di-calcium phosphate
Trace minerals – copper, zinc, manganese and iron
Certified poultry crumble contains a minimum of 12% protein. Nutrient levels may vary slightly between batches. Test results available on request.
This product does not contain any restricted animal material. Its biodynamic ingredients have been Demeter certified by the Biodynamic Research Institute, Victoria. Also suitable as supplementary feed for other free ranging adult poultry including ducks, geese and turkeys.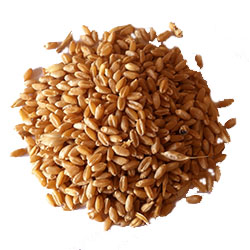 Feed wheat
Demeter certified feed wheat of 10.5% protein for poultry and pigs available in 20kg bags or 1 tonne bulk bags.